Gov't seeks $166 million loan for the purchase of armoured vehicles
Celebrities Buzz
Gov't seeks $166 million loan for the purchase of armoured vehicles
The government through the appropriate ministries are seeking a sum of $166 million for the purchase of armoured vehicles.
Per the procedure, the government has laid three separate agreements before parliament on Monday awaiting approval.
These agreements are under the auspices of the Ministries of Finance, Defence and Interior.
An Order Paper from Parliament shows the first facility is between the Ministry of Finance and Israel Discount Bank Limited for an amount of $166,120,000 to finance the supply of Armoured cars.
Government is also seeking Parliamentary approval for a Commercial Loan Agreement from the same Israel Discount Bank for an amount of $12million for the supply of Armoured vehicles.
The third facility is a contract Agreement between Government of Ghana and Elbit Systems Land Limited of Israel.
This, however, entails a deal for an amount of $80 million for the supply of Armoured Vehicles to the Government of Ghana.
The sector minister, Dominic Ntiwul laid the agreement before the house pending approval. However, Ghanaians are asking whether these vehicles can be manufactured Katanka or not since the money involved is huge.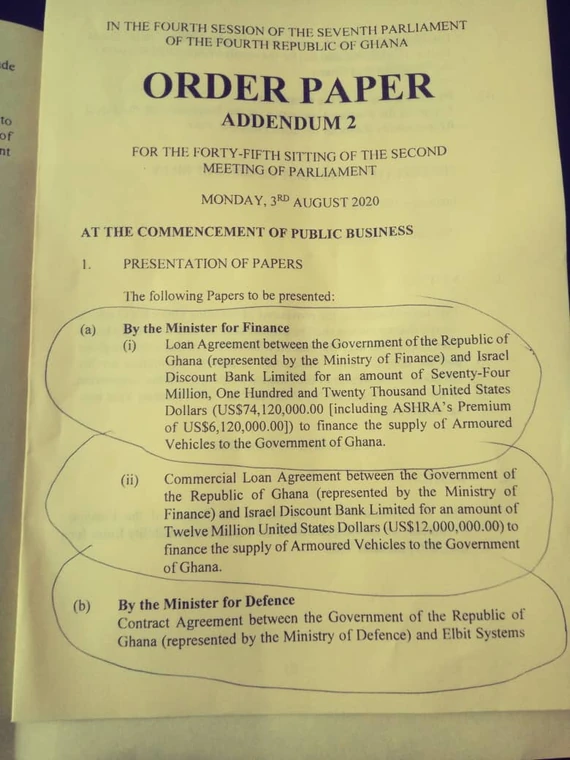 Gov't seeks $166 million loan for the purchase of armoured vehicles
Journalist Albert